Modular Home Info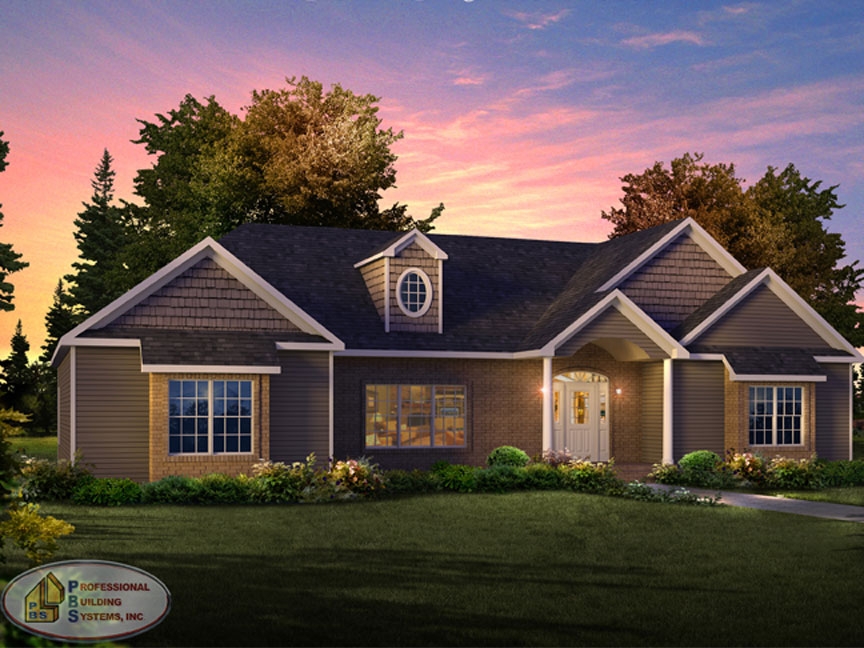 A SMART WAY TO BUILD:
For the quality minded and cost conscious house buyer, our modular home construction is without a doubt, the construction method of choice. Our homes are better built than the vast majority of stick-built homes. Since our modular homes must be transported on the highways, we go beyond the conventional construction requirements that are used to site build a house. We also use a stronger construction technique to build our homes and are very selective in the materials we use. Our state-of-the-art production facilities, quality control personnel and our on going research and development technology allow us to offer a quality, energy efficient home without sacrificing amenities, at an affordable cost.
COST:
Due to the fact that we buy materials by the trainloads and use mass production techniques we are able to lower the cost per square foot on our homes compared to that of conventional stick built ones. We also save you money by using cutting gigs that eliminate wasted materials. Building the homes indoors also has its advantages, like over all workmanship, employee moral and general attitude since neither the house or the workers are exposed to the outdoor elements. Weather damaged materials, pilferage and vandalism are virtually eliminated using this method. Also, the amount of interest you pay on the construction loan is reduced because the construction time is far shorter than that of conventional building.
CONSTRUCTION TIME:
Generally our homes take from four to eight weeks from the time the home is ordered to delivery. During the time when the home is being built, we have already started to develop the site so it will be ready for delivery of the home. Once the home has been placed on the crawl space or foundation, it takes approximately 30 to 45 days before the home is ready for occupancy. If you had a house stick built, it takes considerably longer.
CONSTRUCTION NOTES:
The structural integrity of our modular homes is one of its biggest assets. Technology is expanding at enormous rates and better equipment is seeping from the grounds of society. Building equipment at manufacturing factories are becoming larger, more powerful and much more sophisticated. Precision control is guaranteed and all main components are assembled with gigs. The Factories are also under climate control. This avoids moisture in the lumber, drywall, insulation, warping of walls, doors, freezing and cracking of brittle materials and other ravages of the elements. Since badly knotted or splintered wood would jam the gigs, only the highest quality kiln dried lumber is used. All this results in better materials used in modular homes.
Don't forget our homes go on the road. This forces the manufacture to produce a stronger more durable home. Walls, floors and ceilings are not only nailed together, they are also held together with special adhesives. With hand packed insulation around electrical fixtures and caulking around the exterior sheathing seams, the modular homes are being built to virtually eliminate any cold air drafts in the winter and reduce the cooling costs in the summer months. Every home is inspected by a state-approved third party agency which certifies that the house will meet the most stringent state construction codes.
AMENITIES:
We can customize the interior and exterior of your home in many ways. We have open floor plans, different pitched roofs, bay and bow windows, transom windows, skylights, sliding glass doors, atrium doors and many other window and door treatments. Inside you can get vaulted and cathedral ceilings, special lighting packages, ceiling fans, cable and t.v. jacks. We also offer fireplaces, whirlpool tubs, custom cabinets, carpets, wood flooring, various counter tops, different shingles, sidings, shutters, etc.. We even offer total custom designed floor plans. So, as you can see, the sky truly is the limit!
AFFILIATIONS: